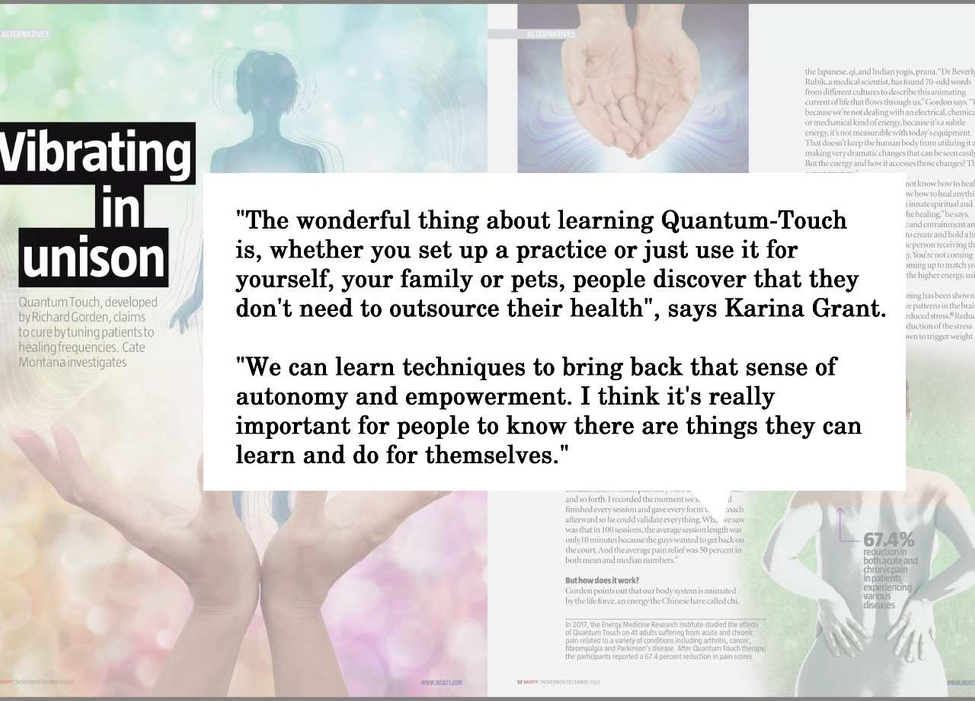 I was thrilled to be interviewed about Quantum-Touch for the November/December issue of Lynne McTaggart's "What Doctor's Don't Tell You" (WDDTY) magazine.
What Doctors Don't Tell You is a monthly magazine that publishes the latest science and healthcare news, alongside information on complementary therapies and alternative medicines, with features written by leading experts.
WDDTY magazine was started as a newsletter in 1989 by award-winning journalist Lynne McTaggart and has a large international following.
The article seeks to explain why Quantum-Touch works so efficiently and can even be offered via distance healing. This engaging feature highlights two people's personal journeys to wellness, after finding this amazing modality. One of the featured stories is about one of my early clients – Joanna Gregory from London who arrived as a skeptic.
Joanna's amazing account of how her debilitating fibromyalgia pain which she had taken medications for and seen many Doctors about. The fibromyalgia pain that left her barely able to walk up the stairs to our healing session – had been eliminated after just one session. During Joanna's healing session her knees "unlocked" and immediately resolved her pain. Joanna describes how she was able to run down the stairs afterward and was so blown away that she went on to become a Quantum-Touch practitioner.
Another incredible healing story in the article is about Lauren, who attended a workshop with Henri Rand in Virginia and experienced an 80% improvement in her scoliosis since learning Quantum-Touch.
I am honoured to have been able to also share my own personal journey with Quantum-Touch in this informative magazine, with the intention that it inspires other people to learn this powerful set of skills that improves people's lives immeasurably.
Would you like to experience Quantum-Touch? Come and join me on a workshop and see how easy it can be to reduce and eliminate pain using these amazing techniques.
Read a snippet of Joanna's incredible story in WDDTY