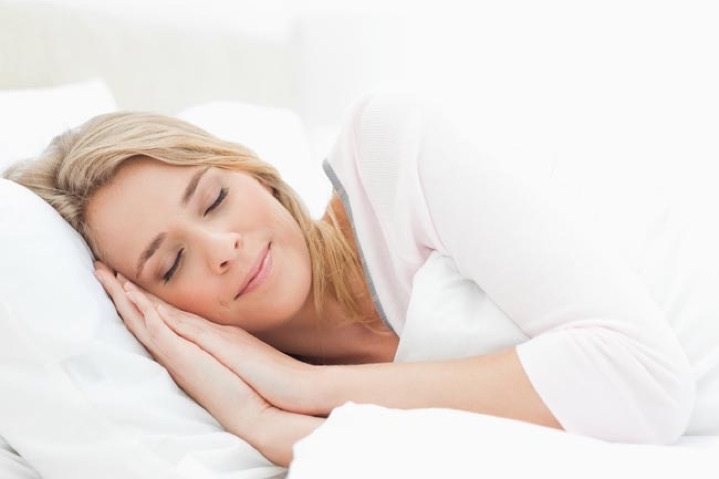 Permission to Reset™ Sleep
A 3-week audio program designed to relax the mind and body before bedtime, opening the door to deep, uninterrupted, refreshing sleep.
Ready to open the Door to Deep, Uninterrupted, Refreshing Sleep?
These audios calm me down and allow me to fall asleep without any stress. I truly wish these techniques were available to people everywhere! My husband said this is the first tool I've shared with him that really and truly calms him down. I use these techniques all the time for everything.

Yasmin Z., National Health Service Nurse, London UK
A good night's sleep can improve your health, lower stress and enhance mental clarity. Yet, getting the recommended amount of sleep is often a struggle.
The Permission to Reset™ Sleep audios are designed to quiet even the busiest mind, release tension from the body and help prepare you for deep, restful sleep.
This sleep program has really helped me find a greater sense of calm and peace, particularly at bedtime. I went from getting a max of 3 hours of sleep a night to 13 hours of deep sleep. I also find I have less anxiety during the day. Karina is a phenomenal teacher. I would highly recommend this incredible program to anyone looking to bring about change.

C.H., Musician, London UK
Introducing the Permission to Reset™ Sleep program
Permissioning and Transformation™" Is Helping People Everywhere Fall & Stay Asleep... Naturally and Easily
Permission to Reset™ Sleep is a 3-week audio program designed to help relax the mind and body before bedtime, opening the door to deep, uninterrupted, refreshing sleep and a happier, more productive next day.
Unlike meditation that requires a lot of concentration, Permissioning and Transformation™ is a process that can work for even the busiest, most distracted mind.
Permissioning and Transformation™ works by giving the mind and body permission to have a new experience. 
Instead of trying to force yourself to sleep, simply play the audio before bed, do the simple movements and permission statements, and give the mind and body permission to fall asleep - gently and naturally.
This is no exaggeration... since starting this program, I've had the deepest and most restorative sleep since I can remember. I feel SO good. Thank you so much! I'm so grateful and plan to use this every single night.

Melissa P, Essex UK
Here's What You'll Get Inside the Permission to Reset™ Sleep Program:
Once inside, you'll find:
A Quick Start Guide where I'll walk you through how to get the absolute best results from the program.
3 Permission to Reset™ Sleep audios - one for each week - to listen to just before bed to help you transition into a deep and refreshing sleep.
My Hand to Heart audio that you can use any time day or night to help quiet your mind and relax your body for greater calm, peace and contentment.
Most people report feeling a difference within just the first few days!
Your 3-Week Permission to Reset™ Sleep Program Will Work Like This:
WEEK 1: Conditioning Relaxation
In this deeply relaxing permission audio, I guide you through 3 "deep conditioning" exercises to help quiet even the busiest mind, release tension from the body and prepare you for deep, restful sleep.
WEEK 2: Safe Space 
Feeling safe is important when it comes to falling and staying asleep. This popular Permissioning and Transformation™ audio helps to create a personal safe space where the body knows that you are protected and can then give itself over to a full night of uninterrupted sleep.
WEEK 3: 3-2-1 Sleep
In this most powerful Permissioning and Transformation™ audio of the series, I walk you through a powerful & unique technique to help you achieve even deeper, more restful levels of sleep. You can use this technique without the audio in future any time you want to sleep better, day or night. This audio literally guides your mind into the deepest level of sleep.
At the end of the 3-week program, if you wish to keep going to continue deepening your results, simply choose any audio and listen to it right before bed. Ideally, listen to the same audio 3 nights in a row.
Here's What Others are Saying About the Permission to Reset™ Sleep program:
I've been using the program for 2 months now and my sleep continues to improve. Even thinking about the techniques helps trigger me falling asleep. I would definitely recommend this, it's easy and is literally just listening to a process on a couple of audios. What could be more simple than that?

Kully M., Software Developer, London UK
The audios for sleep and anxiety are brilliant and extremely useful. I start and end my day listening to some parts of them. They both include a LOT of helpful recordings. I'm not an anxious person but still find great benefit in listening to them. And, my sleep is improving greatly also. I slept until 5:30am last night!! Much better than waking up at 1, 2, 4:30, 5:30!!"

Megan G, Financial Consultant, USA
I've used Permissioning and Transformation™ to treat patients who are suffering from anxiety. I've seen it help alleviate overthinking and mental stress very, very rapidly. I don't know any other technique that's easier or more effective.

Lisa Jennings, Former NHS Psychotherapist (now in private practice) & Nutritionist, London UK
I wish I had found this a year ago - excellent and easy to follow. I can now sleep at night and function normally during the day.

Belinda G., Hertfordshire UK
Having 3 babies within 5 years ruined my sleep patterns. I was a mess. Lack of sleep had started affecting my parenting ability too. I tried Karina's program and all I can say is WOW! My body is learning how to sleep again and the amazing thing is that it seems to be having an effect on my kids too. I can't explain it but as I started to sleep through the night again, they're also sleeping better too. I'm far less edgy during the day and this has made a big difference to our family. Really grateful (so is my husband), thank you.

N.C., London UK
I've waited for 4 weeks before writing a review in case the program stopped working for me. It is STILL working and I feel like a new person. Please try this if you can't sleep, it has changed my life.

AJ, London UK
Listening to the audios is really calming. It feels like the energy in my body becomes really still and I naturally start to drift off. My sleep feels more restorative and I can't believe how refreshed and energised I felt the next day. It's amazing!

Joanna G., London UK
The first night I listened to the audio my sleep was so pure and healing. It was perfect sleep! This became a marker for what good sleep can be and should be. I now naturally want to go to bed before midnight and don't want to fall asleep on the sofa anymore. My sleep keeps getting better and better and better.

Debbie G., London UK
60-Day Money Back Guarantee
Love Your Results Or Get Your Money Back
I invite you to go through this entire audio program and try each of the stress-relieving techniques out for yourself.
If you don't feel that the program was a fit for you for any reason, simply let me know within 60 days and I'll promptly return your money to you with no questions asked.
This is how confident I am that you'll see immediate and lasting results from this program, just as so many people have before you!
Nothing takes me into such a deep state of relaxation as this! It's like sleep hypnosis X 1,000...
I've had restless, sleepless nights for a long time. A friend told me this program had helped him a ton so I decided to give it a try. After just the first night, I slept for 9 hours for the first time in months. I woke up feeling human again for the first time in ages! I sleep well now. Thank you thank you thank you. I've been telling everyone I know about Permissioning and Transformation™.

Sammy D., London UK
Healthy Sleep is an Investment in Your Future
Good sleep is a core component of health and well-being.
If you want to fall asleep more easily, stay asleep throughout the night and wake up feeling more rested and refreshed each and every day, the Permission to Reset™ Sleep program can help you achieve this result.
Remember: You have a full 60 days to try the program out for yourself at absolutely no risk, so there's nothing to lose!
You could be sleeping better as soon as tonight!
Permission to Reset™ Sleep