Quantum-Touch is an energy healing technique that is unique in both its speed and effectiveness, producing the most remarkable results many have ever seen in any healing modality yet.
Quantum-Touch is a method of energy healing that uses very specific breathing techniques and body awareness exercises – to create a powerful, yet natural, field of healing energy. When the practitioner holds a high vibrational field of life-force energy around an affected area, this inspires the body's healing process and creates a rapid healing response.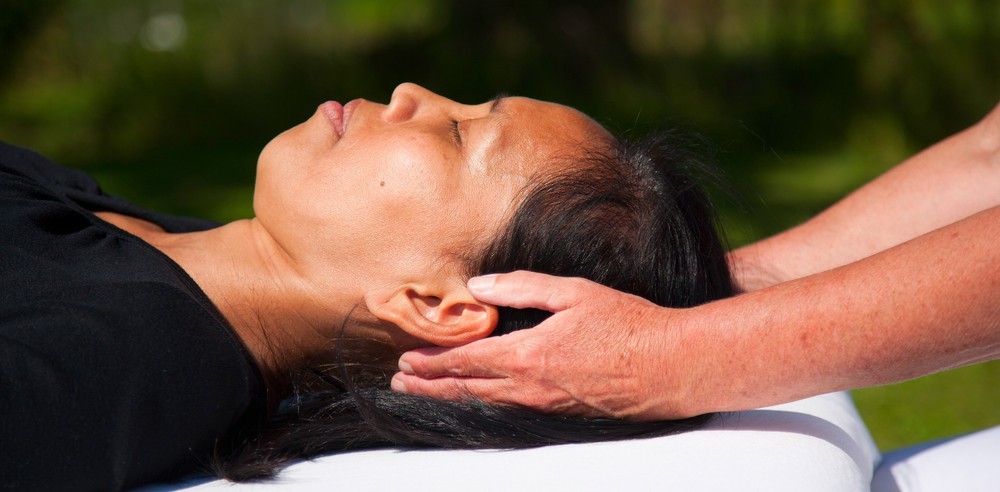 There is no physical manipulation in Quantum-Touch. Only the lightest, most gentle touch is used.
Quantum-Touch is a method of natural healing that works with the Life Force Energy of the body to promote optimal wellness. Life Force Energy, also known as "chi" in Chinese and "prana" in Sanskrit, is the flow of energy that sustains all living beings.
Quantum-Touch teaches us how to focus, amplify, and direct this energy, for a wide range of benefits with surprising and often extraordinary results.
Quantum-Touch is a highly effective method for reducing back pain, realigning structure, balancing organs, glands and systems, reducing muscle aches, healing injuries, healing burns, and so much more.
Quantum-Touch is easy enough to be learned by children, yet powerful enough to astound physicians, chiropractors, physical therapists, and a host of health professionals.
The body has an extraordinary ability to heal itself and Quantum-Touch helps to maximize the body's own capacity to heal. Quantum-Touch addresses the root cause of disease and creates the space for true healing to occur. Rather than just working on symptoms, Quantum-Touch will address the underlying cause of disease. We teach the concept of "body intelligence": the body knows how to bring itself back to 100% wholeness given the proper conditions.
Has Quantum-Touch been tested?
Quantum-Touch has been tested in clinical settings and used in hospitals and operating rooms. It has received numerous endorsements from doctors, surgeons, nurses, chiropractors, midwives, massage therapists and many others in a wide range of fields; acupressure, Reiki, Qi Gong, Tai Chi, sports trainers and more. Why? Because Quantum-Touch is a safe, natural way to enhance the body's innate ability to heal itself and it shows no limits in what can be accomplished.
Invaluable to All Health Professionals. For the researcher, the phenomenon of Quantum-Touch represents an opportunity far too important to pass up.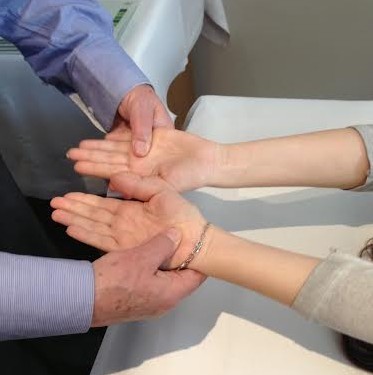 This picture shows Dr Ronnie Turner, Founder of the Irish Guild of Chiropractic. Dr Turner attended Karina's Quantum-Touch workshops and used his chiropractic skills to accurately measure whether Quantum-Touch is effective at aligning hips and bones, as taught in the workshops. Dr Turner was delighted with the results and amazed at the speed and effectiveness of Quantum-Touch.
What is Quantum-Touch used for?
Realigning bones and structure
Rapid sports injury recovery
Accelerated healing
Repetitive Strain Injury
Soft Tissue Injury
Alternative pain relief
Bringing down inflammation
Boosting Immune System
Read more what Quantum-Touch is used for.
Why does Quantum-Touch work?
Your body has the unfathomable energy to heal itself. You do not have to instruct your body how to heal a cut, a bruise or a broken bone; it has the innate ability to do so. However, if your health is poor or your immune system is in some way compromised, then your body does not have the energy needed to heal itself from serious illness or injury. Quantum-Touch simply provides a powerful field of natural healing energy that your body entrains to and can draw upon to accelerate its healing.
In my vast experience, I've never seen anything to compare with the positive results of Quantum-Touch. It enabled affected team members to resume competitive play in a very brief period of time following an injury, and the improvements seemed to continue even after the therapeutic sessions.
Watch this video testimonial from a past participant
In this short video Clare talks about some of the highlights she has witnessed with Quantum-Touch. This includes blood pressure reduce, better breath output when doing "air flow tests" for the lungs and it is a part of her life as a nurse – especially through covid.
Clare has been using the Quantum-Touch breath and techniques both personally and professionally.
Clare Green is a registered respiratory nurse working with patients in England's NHS
Does giving Quantum-Touch drain the practitioner?
The practitioner will not become drained from doing the work. Most often, the practitioner feels uplifted as a result.
The workshop was unbelievably wonderful and so is Karina's teaching. There are so many materials learnt that were easy to learn. I gained lots and lots. Made me more feel more energised and feel my aches and pains less. Feel allot happier too that I came to attend this workshop. Looking forward to the next one!
A note about healing
Quantum-Touch does not claim to treat or heal specific conditions. Ultimately if the body can, it will heal itself and Quantum-Touch may accelerate that process.